What is label interface
If you want your tablet to do some work while your robot is processing your animation, you can define labels through Label interface. You can create Label layers in Label interface and each layer can have a set of labels, each of which defines the task to be done in the tablet.
A sequence diagram of a Label interface would look something like this.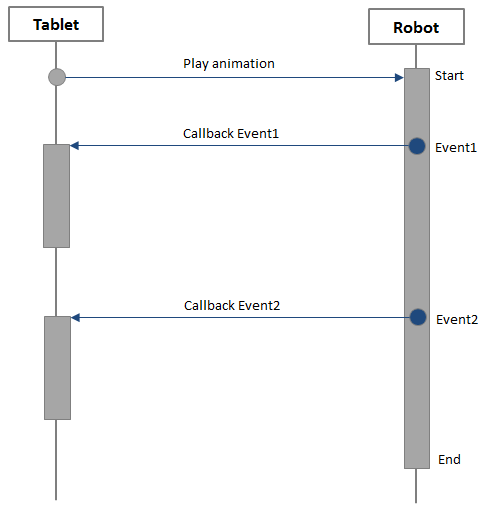 By using Label interface, you can add operations that will be carried out in the tablet side while playing your animation.
For further details, see How to know when a label is reached.
Create label
The Label layers you define are saved in the animation file. In Label interface, you can place your labels in the appropriate animation frame when your label callback should be run. The actual task that is run should be defined in your Android source code.
To add a label, follow these steps.
| Step | Action |
| --- | --- |
| | Open the animation file you want to add your label. |
| | Click button to add a layer. You can set the layer name to your preference. |
| | After creating a layer, double click a location in the keyframe to add a label. You can set the label name to your preference. |
| | You can delete a label by selecting the label and pressing Del key, or by clicking the delete option in the sub menu (open by right clicking the label). You can also move the keyframe of the label with drag & drop. |